The vivarium is almost complete! I'd like to have something to decorate the back wall with... but I'm so happy with it. The moss will probably dry up and look like crap, but it's pretty for now!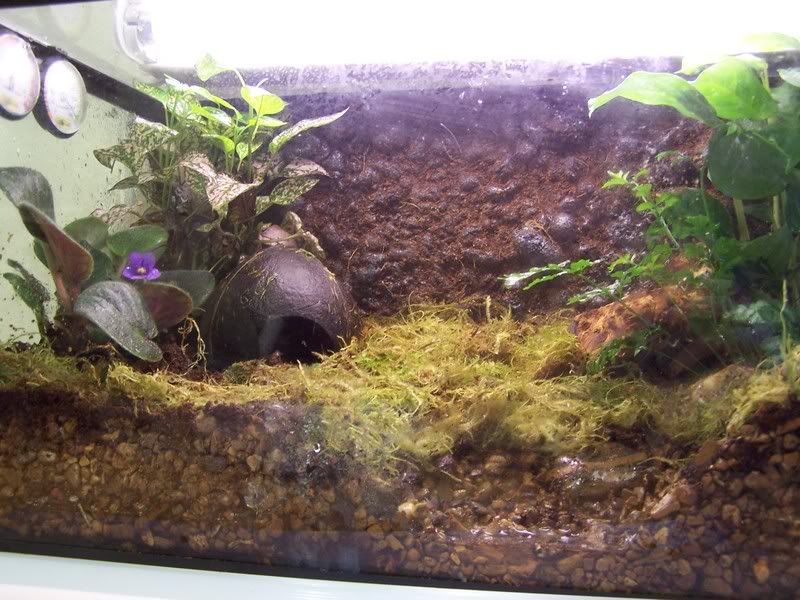 I managed to put a gash in my thumb while working with the false gravel front. I cut two pieces of glass (7.5" x 2.5" and 3.5" x 2.5") and siliconed the same gravel I used in the pond to the fronts of the glass. This way you can see the ugly pipe and the false bottom that is holding the entirety of the land up off the bottom of the tank. Drainage = awesome. While installing the glass, I decided it be a great idea to push it into the corner... Resistance + sharp glass = blood. I can't believe how stupid I am sometimes.
I also got my package of Herptivite and Rep-Cal in the mail today. Mmmm, nothing like candy coating your fruit flies!
Turns out another local breeder is offering frogs for sale, but they are a thumbnail species. They're so incredibly tiny, but they seriously look like living opals. I might have to get a pair of those- they're supposed to be fairly easy to keep.
Behold D. ventrimaculatus:
Too many decisions!