So, Val and I are officially moved in (read: we're sleeping here yes, but all of our crap is still in boxes) and have decided to celebrate by having some of our buddies over for a moving in party tonight.
If you're in the area and want to share in the celebration, give me a call! Our apartment may be small, but the jello shots are fierce!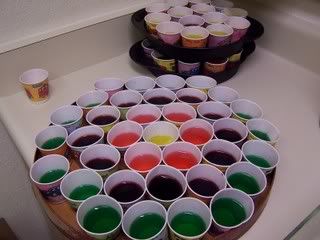 We've got lime and tequila, black cherry and Malibu, watermelon and peach (seriously tastes like a watermelon jolly rancher!), and pineapple. It just doesn't get any better than this!
Text, email, or call!